Mag+ iOS and Android apps support Progressive Downloads. As of version 5.4, end-users can begin reading content before the entire Mag+ Issue downloads to the device. This allows your users to begin reading content faster.
Note: The Progressive Downloads feature is not compatible with
our MIB Optimizer tool.
How Progressive Downloads Work
Each Mag+ Issue is divided into a number of separate Verticals. Individual Verticals are created in Adobe InDesign and exported to the Mag+ Production Tool. These Verticals are then assembled into a MIB file (Mag+ Issue Bundle) which is uploaded to the Mag+ Publish portal and associated with an Issue.
When a user taps on content within the Issue Grid on their app, the Mag+ Publish portal delivers the appropriate MIB for the device they are using. Prior to version 5.4, end-users had to wait for the entire MIB to download before they could begin reading the content.
With Progressive Downloads, this behavior changes. As soon as a handful of Verticals within the Issue have downloaded, the user can then tap a button to begin reading. Read the steps below to see how Progressive Downloads work.
This new behavior will apply to any 5.4 MIB being read in a 5.4 app. Older version MIBs will continue to work as they always have—full MIBs must download before a user can begin reading—even in 5.4 apps. You can disable the Progressive Download for any issue in the Production Tool. If you want older MIBs to behave this way, you must re-create them as 5.4 MIBs and re-upload them to Publish.
When a user taps a cover in the Issue Grid that has not been downloaded, a percentage indicator will appear to inform the user how much content has been downloaded.
Note: The cover image of the Issue will also darken as an indicator appears.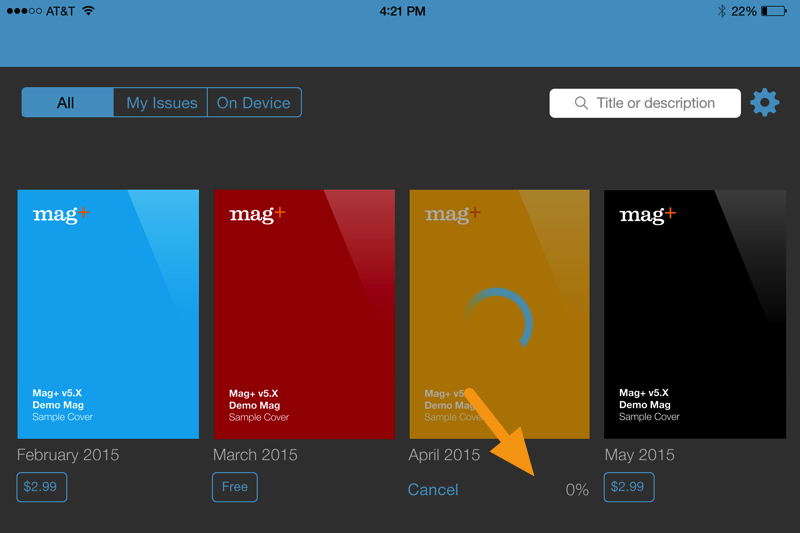 The cover image will change from dark to light as more content is downloaded and a "Tap to Read" button will appear when the user can access the downloaded content.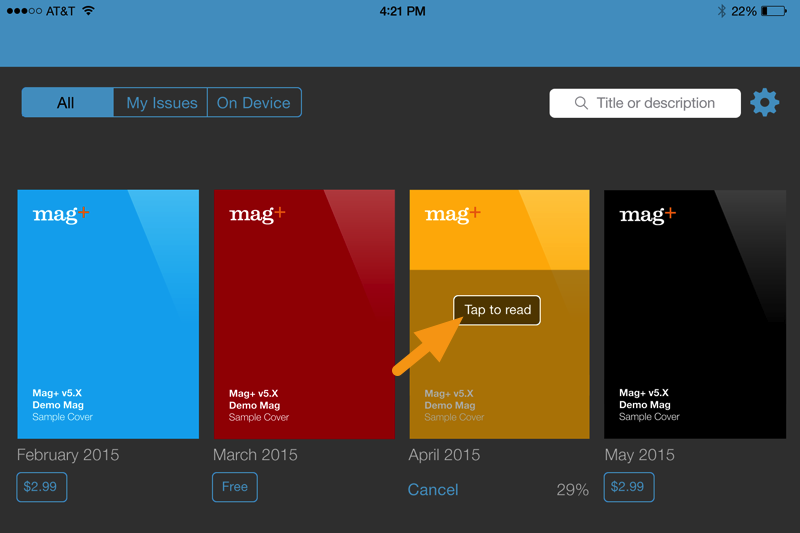 The download will then continue in the background after the user enters the Issue.
Note: If the end-user navigates to a Vertical within a section that has not been downloaded yet, the app will rearrange its queue to start downloading the content that has been requested.