With mag+ you can send out Push Notifications to your readers in both iOS and Android apps. Push notifications are messages that appear outside of the app, on the device itself, provided the user has agreed to accept them from your app. They can be useful to inform users of new content, promote discounts, or just share breaking news with your users. They can be a very effective communication tool, but because they are so immediate, it's easy to annoy users with information they don't need or too many notifications.
This article will walk you through the process of sending a Push Notification from the mag+ Publish portal. This method sends the notification to all users who have accepted them. If you would like segmented push—sending to only a specific group of users—you can use our third-party partner Firebase.
Important Information About iOS Push Notifications
You can send a standard notification to users alerting them of the new issue.
Note: Do not send out more then 1 Push Notification within a 24-hour period. Apple guarantees to deliver a notification within 24 hours, so if iTunes Connect receives 2 notifications for the same app in the same 24 hour window, they might be considered as one and not be delivered in a timely fashion.
Before You Begin
Note: Push Notifications are delivered to devices the moment you click on the "Deliver Now" button (taking into account Apple's restrictions as listed above).
How to Send Push Notifications to iOS/Android Apps
1. Log in to the mag+ Publish Portal at <www.publish.magplus.com>
4. Enter the message and set the appropriate options.
Label 1: Enter the message you wish to deliver.
Label 2: (Optional) Leave this field empty if you are delivering a real message to your app's users. The mag+ Tokens field is only used to test Push Notifications to mag+ Test Devices. If you are testing Push Notifications, enter a comma-separated list of App Installation IDs. For more information, read the article "General - Defining Test Devices."
Note: It is advised to always use small letters while entering mag+ tokens. Do not use capital letters.
Label 3: Choose which platform will receive the Push Notification.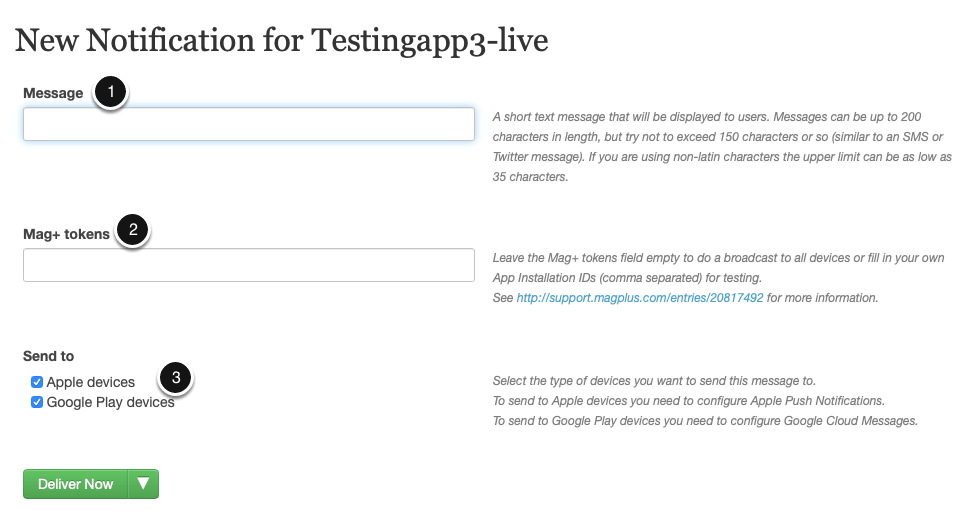 6. Check your delivery stats.

After the notification has gone out (which can take up to 24 hours), you will see how many notifications were successfully delivered. Note that this number will be less than your total user base as some users choose not to accept notifications, and there are many conditions under which notifications can fail.