Normally, mag+ exports your InDesign layout as a series of images to display in the Mag+ apps. This ensures that everything on the InDesign page, including text boxes, is rendered in your app exactly as it looks in InDesign. The downside is that these images can be large, cannot be searched, and the text can not be selected by the user.
However, it is possible to export text as live text using one of two block types in the mag+ plugin. Currently, this reduces the file size of your MIBs and makes the text itself selectable in the app just like any other live text (e.g, the text in an email). As of version 7.4, mag+ has added features in-issue text search in addition to library text search feature. In the future, mag+ may add features, including the ability to search live text and for users to increase text size.
Note: There are two block types that will export live text: InDesign Tagged Text and HTML Text. Please see the notes below to determine which block type is best for you.
Limitations
InDesign Tagged Text is not supported on Android devices. (If you perform a multi-device export from a layout with InDesign Tagged Text to an Android template, the block will be converted to an HTML Text block on the Android layout.)

Text marked as InDesign Tagged Text or HTML Text can only be displayed using fonts available on the device. To see a list of fonts available on iOS 7 & iOS 8,

please refer to this article

and view only pre-installed fonts. For Android, there is only one font; see

this article

. If you choose a non-supported font in InDesign the operating system will default to a supported font. There is currently no capability for adding additional fonts to your app.

InDesign features a different type rendering engine than iOS and Android operating systems. Therefore, aspects of your text like tracking, leading, hyphenation and justification will appear differently when displayed in your app than in InDesign. Please test your design using the Mag+ Reviewer to see how the text will render in your live app.

HTML Text and InDesign Tagged Text can only be used with a Latin character set.

Although it is called "HTML Text," the iOS app is not using a UIWebview to render it.

Apps must be version 5.5 or higher to display HTML Text. Apps must be version 5.2 or higher to display InDesign Tagged Text.
How to Mark a Text Block to be Exported as Tagged Text
1. In your InDesign layout, select a frame of text.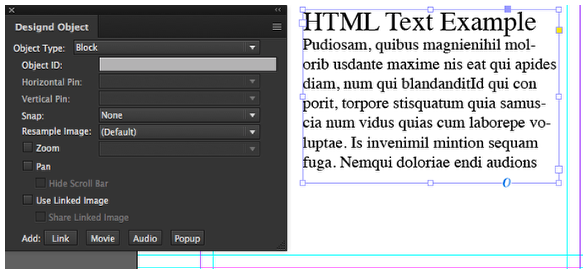 2. In the Designd Object panel, change the Object Type to either "HTML Text" or "InDesign Tagged Text."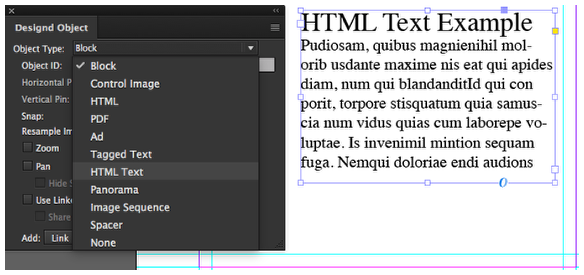 3. Continue designing your layout and export as usual. When the content is viewed on your device, the text will behave as live text.