How to Configure Your App for Paid Content
1. (optional) If you wish to offer subscriptions for your content, configure the appropriate subscription settings.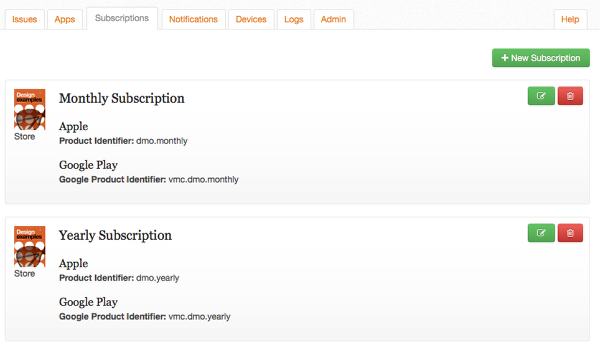 2. Create in-app purchases in iTunes Connect for your Mag+ Issues.

3. Go to the Mag+ Publish portal > Issues and edit the Issue to associate with an in-app purchase.

4. Under Payment, select "Paid Issue".

5. Under In-app Product Identifiers, enter the iTunes In-app Product ID.

6. (optional) If you have created Subscriptions for your content, also choose which Apple subscriptions the Mag+ Issue belongs to.

Note: The Apple - Yearly Subscription and Apple - Monthly Subscription options shown in the image are only examples. The Subscriptions you created earlier will appear in their place.
7. Make sure the following options are configured under Mag+ Publish portal > iOS > Build Options.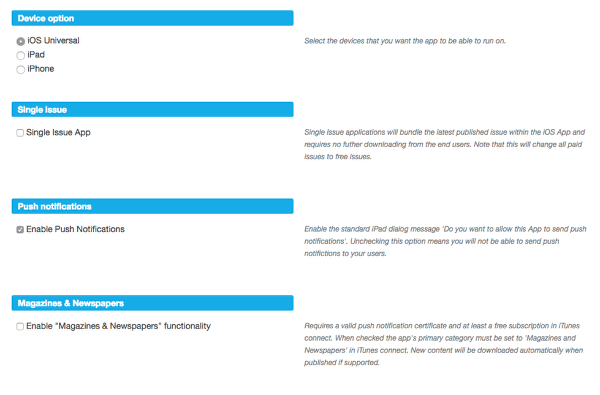 Choose whether your app is Universal or runs only on iPads or iPhones
Check "Enable Push Notifications" only if you have properly configured Push Notifications for your app
Note: For more information on setting up Push Notifications, read the article "Sending Out Push Notifications to Your Readers."
Make sure "Enable Magazines & Newspapers functionality" is not checked
Configure the other options as needed
8. You are now ready to build your app.